Find the best ways to stop being shy around your crush in school or at work. These tips will make you confident and overcome shyness in front of someone you like.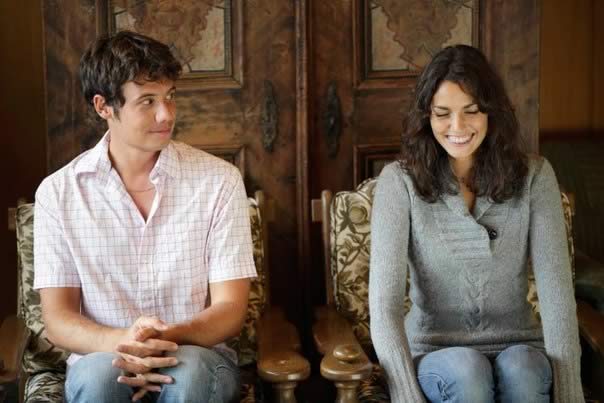 Social skills in a shy person can rust over time. We show you the best ways to stop being shy in front of your crush. These tips are for both guys and girls to deal with nervousness and fear when they come close to the person they like. Shyness, insecurity, and fear can lead to not having social contact and that degrades the ability to approach a girl or a guy and thus reduces our chances of finding a mate.
Some people even under this assumption thought it better to give up talking to their love to be alone forever. There's nothing wrong with being alone (without being isolated of course), but this has to be the result of a conscious decision and not undesired circumstances.
Shyness, despite the different degrees to which you can submit, is defined as the discomfort an individual feels when facing social situations, which sometimes can affect your personal and professional life. When presented with the opportunity to perform new activities, to participate in large groups, or attending social events where you meet new people, shyness can be felt strongly. Well for some guys and girls shyness is only when their crush is around or talking to them. Read this guide to discover how to stop being shy around your crush and become a confident person.
Feel good about yourself
Sometimes a shy and introverted person does not feel as secure about them and thinks they don't look good and fashionable and this is the reason which makes them less confident. The reality is that if you want a stable and satisfactory relationship it is better that you believe in yourself.
There will always be someone who likes what you are and hence do not try to pretend who you are not and change. Even a study shows that perceived honesty in a person increases the perception of physical attractiveness.
If you feel that your style is not good then try to wear what you like and believe me it will increase your confidence around your crush. Whatever you feel suits you more, wear that and for girls keep the makeup natural, don't use it excessively. Dress to make yourself feel good and not just to get their attention. If your crush decides to go out with you, he/she will notice over time that you are not what you showed him/her and you'll be desperate to pretend to be another person to which the person never falls in love. Hence, do things that you like and not for the sake of your partner.
Have something to talk about in advance
Never limit yourself to only listen, but if you want to attract him/her then you should make the person feel that you are very interesting. And to do this take interest in the other person, but go step by step. It is advised not to do an interrogation in a single session and make comments that give rise to situations like you are doing an inquiry or interview with the other person. Instead, with some conversations learn about their interest, research about the topic so that you have something to talk about when you go blank. This will not lead to an awkward situation and thus make you less shy. Apart from this, it will make your crush feel that your interests match, and thus he or she will be more likely to take interest in you.
When you have the opportunity to talk to him o her do not stay without words. Whenever you meet, it is important to begin the conversation with a 'hi', continue with any topics of your college or your friends and now if you are losing all the words then start the topic your crush likes. Finally, simply make a compliment without being obvious, say 'bye', and leave.
Highlight some of your talents
Many introverted or shy people do not want to talk about their achievements for fear of appearing smug. But the reality is that talk a bit about what we like. For which we have some talent or even some successes we've had, lets your crush know about it. Feel proud, be true and your girl or guy will feel the same about you.
Explore your talents and skills, self-esteem, and insecurity issues affecting shyness, so it is important to identify what you are good at and explore the most of your abilities. For example, if you like music attend courses and lectures to learn more about the subject if you enjoy crafts join in workshops, etc. This allows you to take on other social situations, meet people with things in common with you and enhance your qualities and confidence.
Natural Acts
Take reading to yourself to stop being shy around your crush. It is important to discover how physically uncomfortable you react in such situations so that you can control them. Common reactions of shy people consist of gestures such as nail-biting, not looking at the face when talking, blushing during the conversation, etc. These signs denote your discomfort and you must identify to work on them.
If you are shy then act by keeping a smile on your face and talking confidently. That makes us more attractive. Stop looking right, down, left, or up; simply look at his or her face in a conversation. See how the other person behaves and learn their habits and tastes and you take the natural path, which is usually the simplest; be yourself. Choose what you like, talk about what you know, and share what you think. This simple tip will help you a lot to stop being shy in front of the person you like and also attract your guy or girl.
Take your time
Relationships, including friendship, take time to strengthen and advance. Not all people who pass through our lives are going to stay in it and it has different causes, generally do not have as much to do with us and with the other person and what they want and expect.
Avoid pressing to let things flow naturally, but do not hide or disappear. Keep an open interest in the other person, if you have it, and let your crush stay confused about your intention and love. Learn the art to subtly flirt with them at the same time make them obsessed and attracted to you. The topics below will help you a lot.
How to flirt with a girl subtly
How to flirt with a guy subtly
How to Make a Girl Fall in Love With You
How to Make a Guy Fall in Love With You
Expand your comfort zone
If you follow all the tips above, then remember that often in the start you won't feel so comfortable, but with a few conversations your shyness around your crush will go down and that's a good sign. When you enter a slightly awkward situation don't go pale, it is totally fine. With experience, you will learn to stop being shy, and believe me that if you don't try then you will later in life feel like a loser. So try to talk to your crush often to enter the zone where you both like and feel comfortable talking to each other.
Use texts
Texts and chats are one of the best techniques to have a long conversation with your crush. If you both have become good friends then you can talk to the guy or girl over text. You can flirt with your crush on text without being oblivious and lay some attraction seeds so that it grows love between you two. Use texts to get close to him or her and finally make your crush fall for you.
Best flirting tutorials for guys and girls.
Tips flirt with a girl over text
Tips to flirt with a guy over text
Start attracting your crush
Once you overcome shyness, now it is time to attract him and win his heart. You truly love this girl or guy and want to be in a relationship. There is nothing wrong with it. There are some of the tips for guys that will surely help you win a girl's heart. For girls, these are the tips to win a guy's heart and make him yours.
These were some of the best tricks with which you can stop being shy around your crush. Apart from this, you should also learn attraction lessons to win your crush's heart. Finally, remember that confidence is among the most requirements that guys and girls look for in a partner.